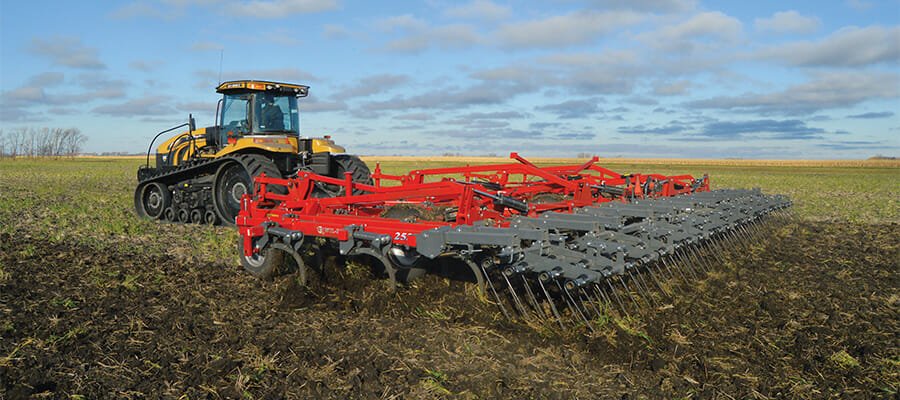 2500 Series Chisel Plow
The 2500 Series Chisel Plow from Wil-Rich integrates a deeper frame front to rear in a refined design, compared to its predecessor. The deep frame utilizes four ranks to improve the flow of heavy residue from today's higher yielding crops. The 2500 Series not only has a deep frame, but also 3/8 in (9 mm) thick steel for even more strength. This makes it one of the strongest tillage implements on the market.
The Wil-Rich 2500 Series Chisel Plow is available in 12 or 15-in (30.5 or 38.1 cm) shank spacing and with trip pressure options of 650 lbs (295 kg) or 1,000 lbs (454 kg). Select sizes are also available with either a level lift or floating hitch. This allows it to be built to accommodate the specific needs of your operation.
LEVEL LIFT HITCH
Level lift hitches are designed to keep the unit level during field operation and transport. The operator can change working depth while maintaining consistent working depth from the front to the rear of the unit.
FLOATING HITCH
The floating hitch pivots between the tractor and the main frame. This pivot point allows the unit to follow the contour of the ground. The front castering gauge wheels are mechanically synchronized with the rear axle, allowing the unit to maintain level working depth from front to rear.
GAUGE WHEELS
Hydraulic castering gauge wheels are standard on floating hitch models, and ratchet adjust castering gauge wheels are standard on 31 ft (9.45 m) and larger wings.
TRANSPORTATION
12R22.5 x 8.25 tires on 8-bolt hubs are used on all in-frame walking tandems to aid in wet working conditions and for increased reliability during transport.
POINTS
The 2500 Series Chisel Plow has a number of point options.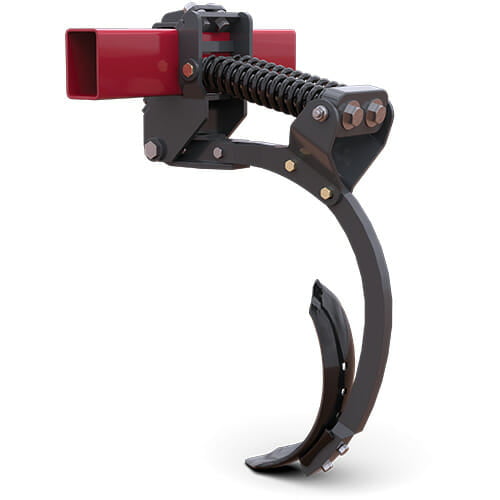 COMPRESSION SPRING TRIP ASSEMBLY
The 1,000 lbs (453.6 kg) compression spring trip assemblies use Wil-Rich's legendary on-edge shanks with wider, zero maintenance pivots that are designed for the life of the machine.
EXTENSION SPRING TRIP ASSEMBLY
The 650 lbs (295 kg) extension spring trip assemblies of the 2500 series Chisel Plow are built to tackle the toughest soils.
DEEP FRAME
The deep frame is 140 in (356 cm) front to back, providing superior trash flow for today's higher residue crops.
COMPACT
The 2500 Series Chisel Plow folds to a compact transport package to easily move to the next field.
hydraulics
Hydraulics on the Wil-Rich 2500 Series Chisel Plow are a 10 in (25.4 cm) stroke Prince wing fold cylinder that varies the bore size to accommodate lift circuit phasing.
13 ft (4 m) main frame
4-bar welded frame
4 x 4 in (10.2 x 10.2 cm) tubular frame
140 in (355.6 cm) front to back
Over-center folding wings
Level lift only on 13-29 ft (4-8.8 m) models
Level lift or floating hitch available on 31 ft (9.4 m) and larger
Cat. IV tongue for 2 in (5 cm) diameter pin for 2530 series or Cat. V tongue for 2.75 in (7 cm) diameter pin for 2550 series
Screw type hitch jack
12 in (30.5 cm) or 15 in (38.1 cm) spacing
650 lb (295 kg) extension spring trip assemblies with 2 x 1.25 x 32 in (5.1 x 3.2 x 81.3 cm) shank at 54° approach
1,000 lb (454 kg) compression spring trip assemblies with 1.25 x 2 x 30 in (3.2 x 5.1 x 76.2 cm) on-edge shank at 50° approach
Single-point depth control
Two main lift cylinders
One wing transport fold cylinder on 3 ft (0.91 m) and 6 ft (1.83 m) wing models
Two wing transport fold cylinders on 9 ft (2.7 m) and 12 ft (3.7 m) wing models
Hydraulically controlled on floating hitch units (31×13.5-15)
Ratchet adjust on level lift units (9.5Lx15)
Safety chain
Transport warning lights
Rigid Models
Level Lift Hitch
| Model | Number of shanks 12 in/15 in | Working width for 12 in, ft (m) | Working width for 15 in, ft (m) | Inner wing, ft (m) | Outer wing, ft (m) | Transport width, ft (m) | Transport height, ft (m) | Weight, lbs (kg) | Horsepower requirement |
| --- | --- | --- | --- | --- | --- | --- | --- | --- | --- |
| 2510 CPR 13 | 13/10 | 13 (4) | 12.5 (3.8) | – | – | 13.5 (4.1) | 6.7 (2.1) | 5,540 (2,513) | 100-156 |
| 2510 CPR 13-15 | 15/12 | 15 (4.6) | 15 (4.6) | – | – | 14.7 (4.5) | 6.7 (2.1) | 5,817 (2,639) | 120-180 |
| 2510 CPR 13-17 | 17/14 | 17 (5.2) | 17.5 (5.3) | – | – | 17.1 (5.2) | 6.7 (2.1) | 6,202 (2,813) | 140-204 |
Folding Models, 3 Ft Wings
Level Lift Hitch
| Model | Number of shanks 12 in/15 in | Working width for 12 in, ft (m) | Working width for 15 in, ft (m) | Inner wing, ft (m) | Outer wing, ft (m) | Transport width, ft (m) | Transport height, ft (m) | Weight, lbs (kg) | Horsepower requirement |
| --- | --- | --- | --- | --- | --- | --- | --- | --- | --- |
| 2530 CPW 19 | 19/- | 19 (5.8) | – | 3 (.9) | – | 14.1 (4.3) | 9.75 (3) | 7,393 (3,353) | 190-228 |
| 2530 CPW 19-21 | 21/16 | 21 (6.4) | 20 (6.1) | 3 (.9) | – | 14.1 (4.3) | 9.9 (3) | 7,671 (3,480) | 160-252 |
| 2530 CPW 19-23 | 23/18 | 23 (7) | 22.5 (6.9) | 3 (.9) | – | 14.1 (4.3) | 10.1 (3.1) | 8,055 (3,654) | 180-276 |
Folding Models, 6 Ft Wings
Level Lift Hitch
| Model | Number of shanks 12 in/15 in | Working width for 12 in, ft (m) | Working width for 15 in, ft (m) | Inner wing, ft (m) | Outer wing, ft (m) | Transport width, ft (m) | Transport height, ft (m) | Weight, lbs (kg) | Horsepower requirement |
| --- | --- | --- | --- | --- | --- | --- | --- | --- | --- |
| 2530 CPW 25 | 25/20 | 25 (7.6) | 25 (7.6) | 6 (1.8) | – | 14.1 (4.3) | 11.1 (3.4) | 9,810 (4,450) | 200-300 |
| 2530 CPW 25-27 | 27/22 | 27 (8.2) | 27.5 (8.4) | 6 (1.8) | – | 14.1 (4.3) | 11.4 (3.5) | 10,088 (4,576) | 220-324 |
| 2530 CPW 25-29 | 29/24 | 29 (8.8) | 30 (9.1) | 6 (1.8) | – | 14.1 (4.3) | 11.7 (3.6) | 10,472 (4,750) | 240-348 |
Folding Models, 9 Ft Wings
Level Lift or Floating Hitch
Model

Number of shanks 12 in/15 in

Working width for 12 in, ft (m)

Working width for 15 in, ft (m)

Inner wing, ft (m)

Outer wing, ft (m)

Transport width, ft (m)

Transport height, ft (m)

Weight with level lift hitch,
lbs (kg)

Weight with floating hitch,
lbs (kg)

Horsepower requirement

2530 CPW 31
31/24
31 (9.4)
30 (9.1)
9 (2.7)
–
19.2 (5.8)
12.5 (3.8)
15,311 (6,945)
17,004 (7,713)
240-372
2530 CPW31-33
33/26
33 (10)
32.5 (10)
9 (2.7)
–
19.2 (5.8)
13.5 (4.1)
15,588 (7,071)
17,281 (7,839)
260-396
2530 CPW 31-35
35/28
35 (11)
35 (11)
9 (2.7)
–
19.2 (5.8)
14.5 (4.4)
15,973 (7,245)
17,666 (8,013)
280-420
2530 CPW 31-37
37/30
37 (11.3)
37.5 (11.4)
9 (2.7)
3 (.9)
19.2 (5.8)
12.5 (3.8)
17,249 (7,824)
18,942 (8,592)
300-444
2530 CPW 31-39
39/32
39 (11.9)
40 (12.2)
9 (2.7)
3 (.9)
19.2 (5.8)
12.5 (3.8)
17,526 (7,950)
19,219 (8,718)
320-468
2530 CPW 31-41
41/34
41 (12.5)
42.5 (13)
9 (2.7)
3 (.9)
19.2 (5.8)
12.5 (3.8)
17,911 (8,124)
19,604 (8,892)
340-492
Folding Models, 12 Ft Wings
Level Lift or Floating Hitch
Model

Number of shanks 12 in/15 in

Working width for 12 in, ft (m)

Working width for 15 in, ft (m)

Inner wing, ft (m)

Outer wing, ft (m)

Transport width, ft (m)

Transport height, ft (m)

Weight with level lift hitch,
lbs (kg)

Weight with floating hitch,
lbs (kg)

Horsepower requirement

2530 CPW 37
37/30
37 (11.3)
37.5 (11.4)
12 (3.7)
3 (.9)
19.2 (5.8)
15.5 (4.7)
16,557 (7,510)
18,250 (8,278)
300-444
2530 CPW 37-39
39/32
39 (11.9)
40 (12.2)
12 (3.7)
3 (.9)
19.2 (5.8)
16.5 (5)
16,835 (7,636)
18,528 (8,404)
320-468
2530 CPW 37-43
43/34
43 (13.1)
42.5 (13)
12 (3.7)
3 (.9)
19.2 (5.8)
16.5 (5)
18,545 (8,412)
20,238 (9,180)
340-516
2530 CPW 37-45
45/36
45 (13.7)
45 (13.7)
12 (3.7)
3 (.9)
19.2 (5.8)
16.5 (5)
18,822 (8,538)
20,515 (9,305)
360-540
2530 CPW 37-47
47/38
47 (14.3)
47.5 (14.5)
12 (3.7)
3 (.9)
19.2 (5.8)
16.5 (5)
19,206 (8,712)
20,899 (9,480)
380-564
Folding Models, 6 or 9 Ft Wings
Floating Hitch
| Model | Number of shanks 12 in/15 in | Working width for 12 in, ft (m) | Working width for 15 in, ft (m) | Inner wing, ft (m) | Outer wing, ft (m) | Transport width, ft (m) | Transport height, ft (m) | Weight, lbs (kg) | Horsepower requirement |
| --- | --- | --- | --- | --- | --- | --- | --- | --- | --- |
| 2550 CPW 49 | 49/- | 49 (15) | – | 12 (3.7) | 6 (1.8) | 19.2 (5.8) | 17.3 (5.3) | 26,825 (12,168) | 490-588 |
| 2550 CPW 49-51 | 51/40 | 51 (15.5) | 50 (15.2) | 12 (3.7) | 6 (1.8) | 19.2 (5.8) | 17.3 (5.3) | 27,102 (12,293) | 400-600+ |
| 2550 CPW 55 | 55/44 | 55 (16.8) | 55 (16.8) | 12 (3.7) | 9 (2.7) | 19.2 (5.8) | 17.3 (5.3) | 27,919 (12,664) | 400-600+ |
| 2550 CPW 55-59 | 59/48 | 59 (18) | 60 (18.3) | 12 (3.7) | 6 (1.8) | 19.2 (5.8) | 17.3 (5.3) | 28,581 (12,964) | 480-600+ |
*Approx weight: base wt + 12 in shank spring (number of shanks x 650 lbs extension springs)