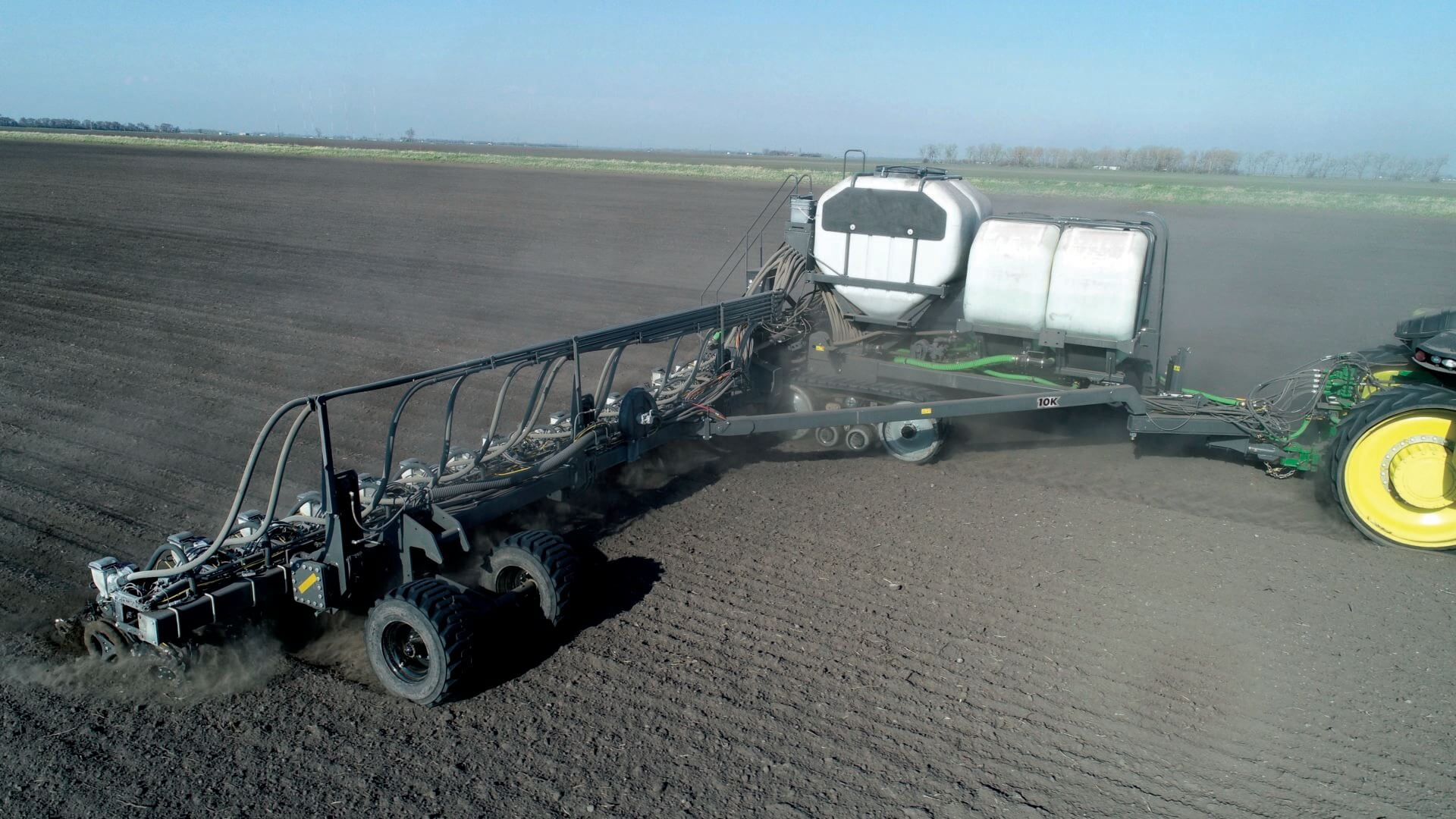 10K Planter Bar
The 10K Folding Planter Bar is built to work with many custom planter setups. Available with 20, 22, and 30-inch (51, 56, 76 cm) spacing, the vacuum-ready planter bar has a 7×7-inch (18 x 18 cm) secondary rear toolbar that is designed to support the row units, with easily accessible vacuum ports spaced for each row. It also rotates 90° upward when preparing to fold, narrowing the overall width for transport.
The secondary toolbar and row units are supported by a mainframe that utilizes 10 x 10 x 1/2-inch (25 x 25 x 1 cm) wall tubing and is built to exceed the most demanding conditions. Engineered with a central fill system featuring 150-bushel ((4 MT) seed capacity, the 10K Planter Bar increases efficiency by reducing fill time and allows the farmer to cover significantly more acres on each fill. The optional 9-foot cleated belt seed conveyor makes loading easy.
Rubber Track System
The rubber track system on the 10K Planter Bar gets  you in the field earlier to extend the growing season. The track system distributes the weight of the two 750-gallon (2839 L) liquid tanks over a larger footprint utilizing flotation to guard against compaction that can come from toolbars using traditional tires.
Road transport was not an after thought in the design of the 10K Planter Bar. Narrow transport width is achieved through a front folding design that uses a combination of the rotating secondary toolbar and a massive 10 x 10-inch (25 x 25 cm) telescoping hitch that extends during transport and locks in field position. Even hooking up to the tractor is made easier with the standard hitch-mounted hydraulic jack.
Why Liquid?
During plant development, having the right nutrients in the right place at the right time is essential. Putting starter fertilizer and nitrogen down during planting not only sets your growing plants up for success, but also reduces the number of trips across the field, increasing productivity.
The 10K Planter Bar is available with twin 750-gallon (2839 L) on-board liquid tanks for 1,500 gallons (5678 L) of liquid capacity – the most liquid capacity in a central fill seed distribution system in the industry. This allows for placement of two different fertilizers at planting. These tanks are ready to be plumbed with your planting units to maximize crop potential. An optional Digi-Star Scale system can be used for accurate seed or liquid measurement.
Heavy-duty 10″ x 10″ x 1/2″ (25 x 25 x 1 cm) main bar
Hydraulic forward-folding wings
Secondary 7″ x 7″ x 1/4″ (18 x 18 x 1.6 cm) bar rotates up to 90° for narrow transport
Adjustable wing wheel
24 row/30″ (76 cm) spacing
36 row/20″ (51 cm) spacing
36 row/22″ (56 cm) spacing
36 row/30″ (76 cm) spacing
33 x 15.5 NHS
12-ply skid steer tires
Safety chain
Transport warning lights
SMV sign & mounting
60′ (18 m) & 66′ (20 m) Models:
6 lift sequencing cylinders
2 wing fold cylinders with tongue latch
6 tool bar tilt cylinders
Complete with hose, hardware and hydraulic couplers
8 lift sequencing cylinders
4 wing fold cylinders with tongue latch
8 tool bar tilt cylinders
Complete with hose, hardware, and hydraulic couplers
Rubber Track System size and spacing
120″ (305 cm) center axle, 30″ wide x 67″ long (76 x 170 cm)
110″ (279 cm) center axle, 25″ wide x 67″ long (64 170 cm)
120″ (305 cm) center axle, 25″ wide x 67″ long (64 170 cm)
12″ x 12″ (30 x 30 cm) structural tube with 10″ x 10″ (25 x 25 cm) hydraulic latch telescoping tongue
Swivel implement hitch
◊ Cat IV (for 2″ (5 cm) pin)
◊ Cat V (for 2-3/4″ (7 cm) pin)
Hydraulic jack
Two 750-gallon (2839 L) liquid tanks
9′ (2.7 m) conveyor with cleated belt
Hydraulic row markers
Mainframe colors available in red, gray, or green
Model

working width

working length

Transport Width

transport height

Transport length

No. of tires / wing

no. of rows / section

Weight*

tongue weight

60′
24 Row/30″ Spacing
59'4″
(18.1 m)
28'6″
(8.7 m)
16'0″
(4.9 m)
12'8″
(3.9 m)
38'4″
(11.7 m)
2-track-2
9-6-9
27,500 lbs
(12.5 MT)
6,500 lbs
(2.9 MT)
60′
36 Row/20″ Spacing
60'1″
(18.6 m)
28'6″
(8.7 m)
16'7″
(5.1 m)
12'8″
(3.9 m)
38'4″
(11.7 m)
2-track-2
13-10-13
27,500 lbs
(12.5 MT)
6,500 lbs
(2.9 MT)
66′
36 Row/22″ Spacing
65'9″
(20.9 m)
28'6″
(8.7 m)
16'0″
(4.9 m)
12'8″
(3.9 m)
38'4″
(11.7 m)
2-track-2
14-8-14
27,640 lbs
(12.5 MT)
6,640 lbs
(3.0 MT)
90′
36 Row/30″ Spacing
90'1″
(27.5 m)
36'8″
(11.2 m)
16'0″
(4.9 m)
12'8″
(3.9 m)
56'7″
(17.2 m)
2-2-track-2-2
6-9-6-9-6
47,420 lbs
(21.5 MT)
10,000 lbs
(4.5 MT)