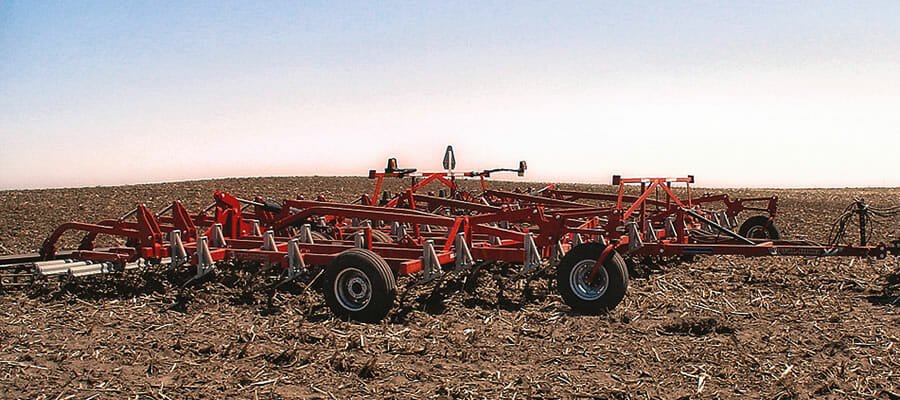 XL2 Field Cultivator
Wil-Rich field cultivators are the industry leaders for strength and performance. Designed for the demands of today's agriculture. Wil-Rich focuses on its customers – designing tillage tools to meet farmers' requirements.
The field-proven and time-tested level lift hitch system of the XL2 field cultivator allows for weight transfer to the tractor. Ideal for level fields, the XL2 performs well in heavy residue conditions and creates a seedbed that is planter ready!
11′ (3.4 m) or 13′ (4 m) main frame
6-bar bolted frame
3 x 4″ (8 x 10 cm) tubular frame
35″ (89 cm) rank-to-rank spacing
140″ (356 cm) front to back
Over center wing fold
Level lift hitch
Manual adjust on 22′ (6.7 m) models
Hydraulically-controlled on 25′ (7.6 m) and larger
Front-mounted
Castering
Walking tandem axles on main frame and wing frames on 25′ (7.6 m) and larger
Non-grease axle composite pivots
Single spring edge-on shank 200 lb. (91 kg) point pressure
Twin spring edge-on shank 300 lb.(136 kg) point pressure
7-inch (17.8 cm) shank spacing
Single-point depth control
Complete with hoses and fittings
11′ (3.4 m) frame – Cat. III tongue for 1-1/2″ (4 cm) diameter pin with clevis adaptor for 1-1/4″ (3 cm) pin
13′ (4 m) frame – Cat. IV tongue for 2″ (5 cm) diameter pin
200 lb., 9/16 x 1¾" (91 kg, 1.4 x 4.4 cm) extension spring edge-on shank
Twin spring, 300 lb. (136 kg) point pressure shank
Walking tandem with 12 31 x 13.5 tires on 10″ (25.4 cm) rims
6-bolt hubs with 2″ (5 cm) spindle
Nongrease axle composite pivots
Safety chain
Transport warning light package
Screw type hitch jack
Depth indicator gauge
General Information, Weights and Dimensions
Model #

Cut Width

# of Shanks

Inner Wing

Outer Wing

# of Tires

Transport Width

Transport Height

Approx. Weight (lbs.)

Approx. Power Req'd

11 XL2 19-22
21'7″
(6.6 m)
37
4'0″
(1.2 m)
4'0″
(1.2 m)
6
16'1″
(4.9 m)
8'7″
(2.6 m)
6,510
(2,953 kg)
155-200 HP
11 XL2 25
25'1″
(7.6 m)
43
7'0″
(2.1 m)
7'0″
(2.1 m)
8
16'1″
(4.9 m)
10'5″
(3.2 m)
7,410
(3,361 kg)
175-225 HP
11XL2 25-27
27'5″
(8.4 m)
47
7'0″
(2.1 m)
7'0″
(2.1 m)
8
16'1″
(4.9 m)
11'7″
(3.5 m)
8,952
(4,061 kg)
193-245 HP
11XL2 25-30
29'9″
(9.1 m)
51
7'0″
(2.1 m)
7'0″
(2.1 m)
8
16'1″
(4.9 m)
12'9″
(3.9 m)
9,357
(4,244 kg)
210-270 HP
11XL2 30
29'9″
(9.1 m)
51
9'4″
(2.8 m)
9'4″
(2.8 m)
10
16'1″
(4.9 m)
12'9″
(3.9 m)
11,177
(5,070 kg)
210-270 HP
11XL2 30-32
32'1″
(6.4 m)
55
9'4″
(2.8 m)
9'4″
(2.8 m)
10
16'1″
(4.9 m)
13'10"
(4.2 m)
11,374
(5,159 kg)
225-290 HP
11XL2 30-36
35'7″
(10.8 m)
61
9'4″
(2.8 m)
9'4″
(2.8 m)
10
16'1″
(4.9 m)
12'9″
(3.9 m)
12,796
(5,804 kg)
250-325 HP
11XL2 30-39
39'1″
(11.9 m)
67
9'4″
(2.8 m)
9'4″
(2.8 m)
12
16'1″
(4.9 m)
12'9″
(3.9 m)
13,346
(6,054 kg)
275-350 HP
Model #

Cut Width

# of Shanks

Inner Wing

Outer Wing

# of Tires

Transport Width

Transport Height

Approx. Weight (lbs.)

Approx. Power Req'd

13XL2 32
32'1″
(6.4 m)
55
9'4″
(2.8 m)
–
12-Oct
18'5″
(5.6 m)
12'9″ (3.9 m)
12,105
(5,490 kg)
225-290 HP
13XL2 32-34
34'5″
(10.5 m)
59
9'4″
(2.8 m)
–
12-Oct
18'5″
(5.6 m)
13'10" (4.2 m)
12,301
(5,580 kg)
240-305 HP
13XL2 32-37
36'9″
(11.2 m)
63
9'4″
(2.8 m)
–
12-Oct
18'5″
(5.6 m)
14'11" (4.5 m)
12,706
(5,763 kg)
260-335 HP
13XL2 32-42
42'7″
(13 m)
73
9'4″
(2.8 m)
5′ 0″
(1.5 m)
14-Dec
18'5″
(5.6 m)
13'5″ (4.1 m)
14,239
(6,459 kg)
245-375 HP
13XL2 32-45
44'11"
(13.7 m)
77
9'4″
(2.8 m)
6′ 0″
(1.8 m)
14-Dec
18'5″
(5.6 m)
13'5″ (4.1 m)
14,489
(6,572 kg)
315-405 HP
13XL2 37
36'9″
(11.2 m)
63
11'8″
(3.6 m)
–
12-Oct
18'5″
(5.6 m)
14'11" (4.5 m)
12,887
(5,845 kg)
260-335 HP
13XL2 37-42
42'7″
(13 m)
73
11'8″
(3.6 m)
–
12-Oct
18'5″
(5.6 m)
15'6″ (4.7 m)
14,598
(6,622 kg)
295-375 HP
13XL2 37-47
47'3″
(14.4 m)
81
11'8″
(3.6 m)
5′ 0″
(1.5 m)
14-Dec
18'5″
(5.6 m)
15'6″ (4.7 m)
15,088
(6,844 kg)
330-425 HP
13XL2 37-50
49'7″
(15.1 m)
85
11'8″
(3.6 m)
6′ 0″
(1.8 m)
14-Dec
18'5″
(5.6 m)
15'6″ (4.7 m)
15,339
(6,958 kg)
350-450 HP
13XL2 46
46'1″
(14 m)
79
9'4″
(2.8 m)
7'0″
(2.1 m)
16/18
18'5″
(5.6 m)
13'6″ (4.1 m)
19,043
(8,638 kg)
325-415 HP
13XL2 46-48
48'5″
(14.8 m)
83
9'4″
(2.8 m)
7'0″
(2.1 m)
16/18
18'5″
(5.6 m)
13'6″ (4.1 m)
19,239
(8,727 kg)
335-435 HP
13XL2 46-50
50'9″
(15.5 m)
87
9'4″
(2.8 m)
7'0″
(2.1 m)
16/18
18'5″
(5.6 m)
13'6″ (4.1 m)
19,479
(8,836 kg)
350-450 HP
13XL2 50
50'9″
(15.5 m)
87
11'8″
(3.6 m)
7'0″
(2.1 m)
16/18
18'5″
(5.6 m)
15'6″ (4.7 m)
19,856
(9,007 kg)
350-450 HP
13XL2 50-53
53'1″
(16.2 m)
91
11'8″
(3.6 m)
7'0″
(2.1 m)
16/18
18'5″
(5.6 m)
15'6″ (4.7 m)
20,052
(9,095 kg)
375-475 HP
13XL2 55
55'5″
(16.9 m)
95
11'8″
(3.6 m)
9'4″
(2.8 m)
16/18
18'5″
(5.6 m)
15'6″ (4.7 m)
20,537
(9,315 kg)
385-495 HP
13XL2 55-58
57'9″
(17.6 m)
99
11'8″
(3.6 m)
9'4″
(2.8 m)
16/18
18'5″
(5.6 m)
15'6″ (4.7 m)
20,734
(9,405 kg)
410-525 HP
13XL2 55-60
60'1″
(18.3 m)
103
11'8″
(3.6 m)
9'4″
(2.8 m)
16/18
18'5″
(5.6 m)
15'6″ (4.7 m)
20,974
(9,514 kg)
425-540 HP
Note: Approximate weight = (number of shanks x shank weight) + base weight