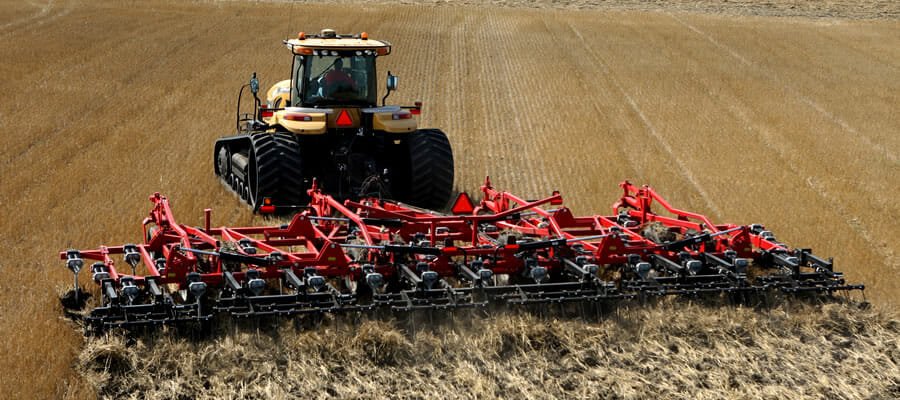 2500 Series Chisel Plow
For more than 40 years, Wil-Rich has incorporated its philosophy of continuous improvement into each new series of chisel plows. This tradition continues with the introduction of the 2500 Series Chisel Plow! Our engineers developed the 2500 Series to integrate a more refined design into the first new chisel plow released in almost a decade.
Wil-Rich made the frame of the 2500 Series Chisel Plow deeper front to rear to improve the trash flow associated with increased residues from today's higher yielding crops. The deeper frame also gives the frame added overall strength. By moving to a common frame design, Wil-Rich has also made it easier for you to get the chisel plow you want, whether it's a level lift or floating hitch.
By increasing the tube wall thickness from ¼-inch to ⅜-inch in key areas on the 2500 Series Chisel Plow, Wil-Rich has doubled the amount of steel, creating a better all-around chisel plow!
13′ main frame
4-bar welded frame
4 x 4″ tubular frame
140″ front to back
Over-center folding wings
Hydraulically controlled on floating hitch units (31×13.5-15)
Ratchet adjust on level lift units (9.5Lx15)
Safety chain
Transport warning light package
Single-point depth control
Two main lift cylinders
One wing transport fold cylinder on 3′ and 6′ wing models
Two wing transport fold cylinders on 9′ and 12′ wing models
Level lift only on 13′-29′ models
Level lift or floating hitch available on 31′ and larger
Cat. IV tongue for 2″ (5 cm) diameter pin for 2530 series or Cat. V tongue for 2-3/4″ (7 cm) diameter pin for 2550 series
Screw type hitch jack
650-lb. 1 ¼ x 2 x 32″ compression spring shank
1,000-lb. 1 ¼ x 2 x 30″ compression spring edge-on shank
12″ or 15″ spacing
General Information, Weights and Dimensions
2510 Series
Rigid Model – with tandem axle (Level Lift Hitch)
| Model # | Working Width 12″ (30.5 cm) | Working Width 15″ (38.1 cm) | No. of Shanks 12″/15″ | Inner Wing | Approx. Trans. Width | Approx. Trans. Height | Approx. Weight (LBS.) | TBD |
| --- | --- | --- | --- | --- | --- | --- | --- | --- |
| 2510 CPR 13 | 13′ (4 m) | 12'6″ (3.8 m) | 13/10 | N/A | 13'6″ (4.1 m) | 6'8″ (2.1 m) | 6,610 (2,998 kg) | |
| 2510 CPR 13-15 | 15′ (4.6 m) | 15′ (4.6 m) | 15/12 | N/A | 14'8″ (4.5 m) | 6'8″ (2.1 m) | 6,932 (3,144 kg) | |
| 2510 CPR 13-17 | 17′ (5.2 m) | 17'6″ (5.3 m) | 17/14 | N/A | 17'1″ (5.2 m) | 6'8″ (2.1 m) | 7,356 (3,337 kg) | |
2530 Series
Folding Model with 3-foot (.9 m) wings and tandem axle (Level Lift Hitch)
| Model # | Working Width 12″ (30.5 cm) | Working Width 15″ (38.1 cm) | No. of Shanks 12″/15″ | Inner Wing | Approx. Trans. Width | Approx. Trans. Height | Approx. Weight (LBS.) | TBD |
| --- | --- | --- | --- | --- | --- | --- | --- | --- |
| 2530 CPW 19 | 19′ (5.8 m) | N/A | 19/- | 3′ (.9 m) | 14'1″ (4.3 m) | 9'9″ (3 m) | 8,566 (3,885 kg) | |
| 2530 CPW 19-21 | 21′ (6.4 m) | 20′ (6.1 m) | 21/16 | 3′ (.9 m) | 14'1″ (4.3 m) | 9'11" (3 m) | 8,888 (4,032 kg) | |
| 2530 CPW 19-23 | 23′ (7 m) | 22'6″ (6.9 m) | 23/18 | 3′ (.9 m) | 14'1″ (4.3 m) | 10'1″ (3.1 m) | 9,313 (4,224 kg) | |
2530 Series
Folding Model with 6-foot wings (2 m) and tandem axle (Level Lift Hitch)
| Model # | Working Width 12″ | Working Width 15″ | No. of Shanks 12″/15″ | Inner Wing | Approx. Trans. Width | Approx. Trans. Height | Approx. Weight (LBS.) | TBD |
| --- | --- | --- | --- | --- | --- | --- | --- | --- |
| 2530 CPW 25 | 25′ | 25′ | 25/20 | 6′ | 14'1″ | 11'1″ | 11,271 | |
| 2530 CPW 25-27 | 27′ | 27'6″ | 27/22 | 6′ | 14'1″ | 11'5″ | 11,593 | |
| 2530 CPW 25-29 | 29′ | 30′ | 29/24 | 6′ | 14'1″ | 11'8″ | 12,017 | |
2530 Series
Folding Model with 9-foot (3 m) wings and tandem axle (Level Lift or Floating Hitch)
| Model # | Working Width 12″ | Working Width 15″ | No. of Shanks 12″/15″ | Inner Wing | Approx. Trans. Width | Approx. Trans. Height | Approx. Weight (LBS.) Level Lift Hitch | Approx. Weight (LBS.) Floating Lift Hitch | TBD |
| --- | --- | --- | --- | --- | --- | --- | --- | --- | --- |
| 2530 CPW 31 | 31′ (9.4 m) | 30′ (9.1 m) | 31/24 | 9'/0′ (2.7 m/0 m) | 19'2″ (5.8 m) | 12'6″ (3.8 m) | 15,016 (6,811 kg) | 16,390 (7,434 kg) | |
| 2530 CPW31-33 | 33′ (10 m) | 32'6″ (10 m) | 33/26 | 9'/0′ (2.7 m/0 m) | 19'2″ (5.8 m) | 13'6″ (4.1 m) | 15,440 (7,004 kg) | 16,814 (7,627 kg) | |
| 2530 CPW 31-35 | 35′ (11 m) | 35′ (11 m) | 35/28 | 9'/0′ (2.7 m/0 m) | 19'2″ (5.8 m) | 14'6″ (4.4 m) | 15,872 (7,199 kg) | 17,246 (7,823 kg) | |
| 2530 CPW 31-37 | 37′ (11.3 m) | 37'6″ (11.4 m) | 37/30 | 9'/3′ (2.7 m/.9 m) | 19'2″ (5.8 m) | 12'6″ (3.8 m) | 17,178 (7,792 kg) | 18,552 (8,415 kg) | |
| 2530 CPW 31-39 | 39′ (11.9 m) | 40′ (12.2 m) | 39/32 | 9'/3′ (2.7 m/.9 m) | 19'2″ (5.8 m) | 12'6″ (3.8 m) | 17,508 (7,942 kg) | 18,882 (8,565 kg) | |
| 2530 CPW 31-41 | 41′ (12.5 m) | 42'6″ (13 m) | 41/34 | 9'/3′ (2.7 m/.9 m) | 19'2″ (5.8 m) | 12'6″ (3.8 m) | 17,940 (8,137 kg) | 19,314 (8,761 kg) | |
2530 Series
Folding Model with 12-foot (4 m) wings and tandem axle (Level Lift or Floating Hitch)
| Model # | Working Width 12″ | Working Width 15″ | No. of Shanks 12″/15″ | Inner Wing | Approx. Trans. Width | Approx. Trans. Height | Approx. Weight (LBS.) Level Lift Hitch | Approx. Weight (LBS.) Floating Lift Hitch | TBD |
| --- | --- | --- | --- | --- | --- | --- | --- | --- | --- |
| 2530 CPW 37 | 37′ (11.3 m) | 37'6″ (11.4 m) | 37/30 | 12'/0′ (3.7 m/.9 m) | 19'2″ (5.8 m) | 15'6″ (4.7 m) | 16,550 (7,507 kg) | 17,924 (8,130 kg) | |
| 2530 CPW 37-39 | 39′ (11.9 m) | 40′ (12.2 m) | 39/32 | 12'/0′ (3.7 m/.9 m) | 19'2″ (5.8 m) | 16'6″ (5 m) | 16,881 (7,657 kg) | 18,255 (8,280 kg) | |
| 2530 CPW 37-43 | 43′ (13.1 m) | 42'6″ (13 m) | 43/34 | 12'/3′ (3.7 m/.9 m) | 19'2″ (5.8 m) | 16'6″ (5 m) | 18,668 (8,468 kg) | 20,042 (9,091 kg) | |
| 2530 CPW 37-45 | 45′ (13.7 m) | 45′ (13.7 m) | 45/36 | 12'/3′ (3.7 m/.9 m) | 19'2″ (5.8 m) | 16'6″ (5 m) | 18,998 (8,617 kg) | 20,372 (9,241 kg) | |
| 2530 CPW 37-47 | 47′ (14.3 m) | 47'6″ (14.5 m) | 47/38 | 12'/3′ (3.7 m/.9 m) | 19'2″ (5.8 m) | 16'6″ (5 m) | 19,431 (8,814 kg) | 20,805 (9,437 kg) | |
2550 Series
Folding Model with 6-foot (2 m) wings and tandem axle (Floating Hitch)
| Model # | Working Width 12″ | Working Width 15″ | No. of Shanks 12″/15″ | Inner Wing | Approx. Trans. Width | Approx. Trans. Height | Approx. Weight (LBS.) | TBD |
| --- | --- | --- | --- | --- | --- | --- | --- | --- |
| 2550 CPW 49 | 49′ (15 m) | N/A | 49/N/A | 12'/6′ (3.7 m/1.8 m) | 19'2″ (5.8 m) | 17'4″ (5.3 m) | 27,699 (12,564 kg) | |
| 2550 CPW 49-51 | 51′ (15.5 m) | 50′ (15.2 m) | 51/40 | 12'/6′ (3.7 m/ 1.8 m) | 19'2″ (5.8 m) | 17'4″ (5.3 m) | 28,031 (12,714 kg) | |
| 2550 CPW 49-53 | 53′ (16.2 m) | 52'6″ (16 m) | 53/42 | 12'/6′ (3.7 m/ 1.8 m) | 19'2″ (5.8 m) | 17'4″ (5.3 m) | 28,443 (12,901 kg) | |
2550 Series
Folding Model with 9-foot (3 m) wings and tandem axle (Floating Hitch)
| Model # | Working Width 12″ | Working Width 15″ | No. of Shanks 12″/15″ | Inner Wing | Approx. Trans. Width | Approx. Trans. Height | Approx. Weight (LBS.) | TBD |
| --- | --- | --- | --- | --- | --- | --- | --- | --- |
| 2550 CPW 55 | 55′ (16.8 m) | 55′ (16.8 m) | 55/44 | 12'/9′ (3.7 m/2.7 m) | 19'2″ (5.8 m) | 17'4″ (5.3 m) | 29,055 (13,179 kg) | |
| 2550 CPW 55-57 | 57′ (17.4 m) | 57'6″ (17.5 m) | 57/46 | 12'/9′ (3.7 m/2.7 m) | 19'2″ (5.8 m) | 17'4″ (5.3 m) |  29,367 (13,321 kg) | |
| 2550 CPW 55-59 | 59′ (18 m) | 60′ (18.3 m) | 59/48 | 12'/9′ (3.7 m/2.7 m) | 19'2″ (5.8 m) | 17'4″ (5.3 m) | 29,804 (13,519 kg) | |