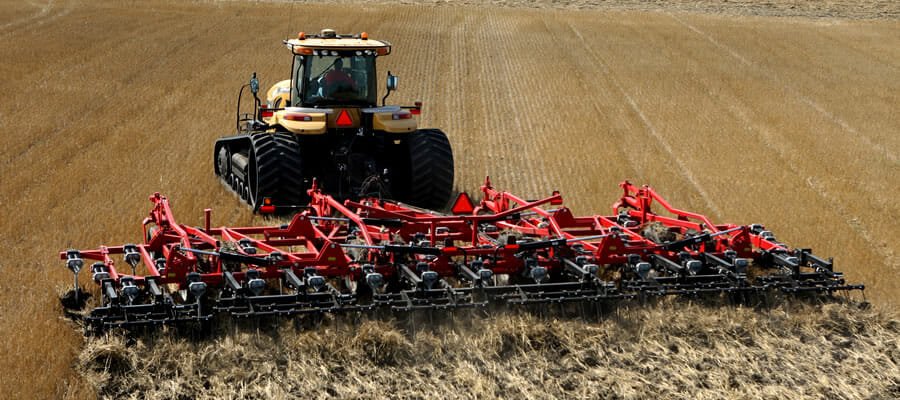 2500 Series Chisel Plow
The 2500 Series Chisel Plow from Wil-Rich integrates a deeper frame front to rear in a refined design, compared to its predecessor. The deep frame utilizes four ranks to improve the flow of heavy residue from today's higher yielding crops. The 2500 Series not only utilizes a deep frame, but also, 3/8″ (9 mm) thick steel for even more strength. This makes it one of the strongest tillage implements on the market.
The Wil-Rich 2500 Series Chisel Plow is available in 12 or 15-inch (30.5 or 38.1 cm) shank spacing and with trip pressure options of 650 lbs. (295 kg) or 1,000 lbs. (454 kg). Select sizes are also available with either a level lift or floating hitch. This allows it to be built to accommodate the specific needs of your operation.
13′ (4 m) main frame
4-bar welded frame
4 x 4″ (10.2 x 10.2 cm) tubular frame
140″ (355.6 cm) front to back
Over-center folding wings
Hydraulically controlled on floating hitch units (31×13.5-15)
Ratchet adjust on level lift units (9.5Lx15)
Safety chain
Transport warning light package
Single-point depth control
Two main lift cylinders
One wing transport fold cylinder on 3′ (0.91 m) and 6′ (1.83 m) wing models
Two wing transport fold cylinders on 9′ (2.7 m) and 12′ (3.7 m) wing models
Level lift only on 13′-29′ (4-8.8 m) models
Level lift or floating hitch available on 31′ (9.4 m) and larger
Cat. IV tongue for 2″ (5 cm) diameter pin for 2530 series or Cat. V tongue for 2¾" (7 cm) diameter pin for 2550 series
Screw type hitch jack
12″ (30.5 cm) or 15″ (38.1 cm) spacing
650-lb. (295 kg) extension spring trip assemblies with 2 x 1 ¼ x 32″ (5.1 x 3.2 x 81.3 cm)  shank at 54° approach
1,000-lb. (454 kg) compression spring trip assemblies with 1 ¼ x 2 x 30″ (3.2 x 5.1 x 76.2 cm) on-edge shank at 50° approach
General Information, Weights and Dimensions
2510 Series
Rigid Model – with tandem axle (Level Lift Hitch)
Model #

Working Width 12″ (30.5 cm)

Working Width 15″ (38.1 cm)

No. of Shanks 12″/15″

Inner Wing

Approx. Trans. Width

Approx. Trans. Height

Approx. Weight (LBS.)

Approx. Power Req'd

2510 CPR 13
13′
(4 m)
12'6″
(3.8 m)
13/10
N/A
13'6″
(4.1 m)
6'8″
(2.1 m)
5,540
(2,513 kg)

100-156 HP

2510 CPR 13-15
15′
(4.6 m)
15′
(4.6 m)
15/12
N/A
14'8″
(4.5 m)
6'8″
(2.1 m)
5,817
(2,639 kg)
120-180 HP
2510 CPR 13-17
17′
(5.2 m)
17'6″
(5.3 m)
17/14
N/A
17'1″
(5.2 m)
6'8″
(2.1 m)
6,202
(2,813 kg)
140-204 HP
2530 Series
Folding Model with 3-foot (.9 m) wings and tandem axle (Level Lift Hitch)
Model #

Working Width 12″ (30.5 cm)

Working Width 15″ (38.1 cm)

No. of Shanks 12″/15″

Inner Wing

Approx. Trans. Width

Approx. Trans. Height

Approx. Weight (LBS.)

Approx. Power Req'd

2530 CPW 19
19′
(5.8 m)
N/A
19/-
3′
(.9 m)
14'1″
(4.3 m)
9'9″
(3 m)
7,393
(3,353 kg)
190-228 HP
2530 CPW 19-21
21′
(6.4 m)
20′
(6.1 m)
21/16
3′
(.9 m)
14'1″
(4.3 m)
9'11"
(3 m)
7,671
(3,480 kg)
160-252 HP
2530 CPW 19-23
23′
(7 m)
22'6″
(6.9 m)
23/18
3′
(.9 m)
14'1″
(4.3 m)
10'1″
(3.1 m)
8,055
(3,654 kg)
180-276 HP
2530 Series
Folding Model with 6-foot wings (2 m) and tandem axle (Level Lift Hitch)
Model #

Working Width 12″

Working Width 15″

No. of Shanks 12″/15″

Inner Wing

Approx. Trans. Width

Approx. Trans. Height

Approx. Weight (LBS.)

Approx. Power Req'd

2530 CPW 25
25′
(7.6 m)
25′
(7.6 m)
25/20
6′
(1.8 m)
14'1″
(4.3 m)
11'1″
(3.4 m)
9,810
(4,450 kg)
200-300 HP
2530 CPW 25-27
27′
(8.2 m)
27'6″
(8.4 m)
27/22
6′
(1.8 m)
14'1″
(4.3 m)
11'5″
(3.5 m)
10,088
(4,576 kg)
220-324 HP
2530 CPW 25-29
29′
(8.8 m)
30′
(9.1 m)
29/24
6′
(1.8 m)
14'1″
(4.3 m)
11'8″
(3.6 m)
10,472
(4,750 kg)
240-348 HP
2530 Series
Folding Model with 9-foot (3 m) wings and tandem axle (Level Lift or Floating Hitch)
Model #

Working Width 12″

Working Width 15″

No. of Shanks 12″/15″

Inner/outer Wing

Approx. Trans. Width

Approx. Trans. Height

Approx. Weight (LBS.) Level Lift Hitch

Approx. Weight (LBS.) Floating Lift Hitch

Approx. Power Req'd

2530 CPW 31
31′
(9.4 m)
30′
(9.1 m)
31/24
9'/0′
(2.7 m/0 m)
19'2″
(5.8 m)
12'6″
(3.8 m)
15,311
(6,945 kg)
17,004
(7,713 kg)
240-372 HP
2530 CPW31-33
33′
(10 m)
32'6″
(10 m)
33/26
9'/0′
(2.7 m/0 m)
19'2″
(5.8 m)
13'6″
(4.1 m)
15,588
(7,071 kg)
17,281
(7,839 kg)
260-396 HP
2530 CPW 31-35
35′
(11 m)
35′
(11 m)
35/28
9'/0′
(2.7 m/0 m)
19'2″
(5.8 m)
14'6″
(4.4 m)
15,973
(7,245 kg)
17,666
(8,013 kg)
280-420 HP
2530 CPW 31-37
37′
(11.3 m)
37'6″
(11.4 m)
37/30
9'/3′
(2.7 m/.9 m)
19'2″
(5.8 m)
12'6″
(3.8 m)
17,249
(7,824 kg)
18,942
(8,592 kg)
300-444 HP
2530 CPW 31-39
39′
(11.9 m)
40′
(12.2 m)
39/32
9'/3′
(2.7 m/.9 m)
19'2″
(5.8 m)
12'6″
(3.8 m)
17,526
(7,950 kg)
19,219
(8,718 kg)
320-468 HP
2530 CPW 31-41
41′
(12.5 m)
42'6″
(13 m)
41/34
9'/3′
(2.7 m/.9 m)
19'2″
(5.8 m)
12'6″
(3.8 m)
17,911
(8,124 kg)
19,604
(8,892 kg)
340-492 HP
2530 Series
Folding Model with 12-foot (4 m) wings and tandem axle (Level Lift or Floating Hitch)
Model #

Working Width 12″

Working Width 15″

No. of Shanks 12″/15″

Inner/outer Wing

Approx. Trans. Width

Approx. Trans. Height

Approx. Weight (LBS.) Level Lift Hitch

Approx. Weight (LBS.) Floating Lift Hitch

Approx. Power Req'd

2530 CPW 37
37′
(11.3 m)
37'6″
(11.4 m)
37/30
12'/0′ (3.7 m/.9 m)
19'2″
(5.8 m)
15'6″
(4.7 m)
16,557
(7,510 kg)
18,250
(8,278 kg)
300-444 HP
2530 CPW 37-39
39′
(11.9 m)
40′
(12.2 m)
39/32
12'/0′ (3.7 m/.9 m)
19'2″
(5.8 m)
16'6″
(5 m)
16,835
(7,636 kg)
18,528
(8,404 kg)
320-468 HP
2530 CPW 37-43
43′
(13.1 m)
42'6″
(13 m)
43/34
12'/3′ (3.7 m/.9 m)
19'2″
(5.8 m)
16'6″
(5 m)
18,545
(8,412 kg)
20,238
(9,180 kg)
340-516 HP
2530 CPW 37-45
45′
(13.7 m)
45′
(13.7 m)
45/36
12'/3′ (3.7 m/.9 m)
19'2″
(5.8 m)
16'6″
(5 m)
18,822
(8,538 kg)
20,515
(9,305 kg)
360-540 HP
2530 CPW 37-47
47′
(14.3 m)
47'6″
(14.5 m)
47/38
12'/3′ (3.7 m/.9 m)
19'2″
(5.8 m)
16'6″
(5 m)
19,206
(8,712 kg)
20,899
(9,480 kg)
380-564 HP
2550 Series
Folding Model with 6-foot (2 m)(49-50-foot models) or 9-foot (3 m)(55-60-foot models) wings and tandem axle (Floating Hitch)
Model #

Working Width 12″

Working Width 15″

No. of Shanks 12″/15″

Inner/outer Wing

Approx. Trans. Width

Approx. Trans. Height

Approx. Weight (LBS.)

Approx. Power Req'd

2550 CPW 49
49′
(15 m)
N/A
49/N/A
12'/6′
(3.7 m/1.8 m)
19'2″
(5.8 m)
17'4″
(5.3 m)
26,825
(12,168 kg)
490-588 HP
2550 CPW 49-51
51′
(15.5 m)
50′
(15.2 m)
51/40
12'/6′
(3.7 m/ 1.8 m)
19'2″
(5.8 m)
17'4″
(5.3 m)
27,102
(12,293 kg)
400-600+ HP
2550 CPW 55
55′
(16.8 m)
55′
(16.8 m)
55/44
12'/9′
(3.7 m/ 2.7 m)
19'2″
(5.8 m)
17'4″
(5.3 m)
27,919
(12,664 kg)
400-600+ HP
2550 CPW 55-59
59′
(18 m)
60′
(18.3 m)
59/48
12'/9′
(3.7 m/ 2.7 m)
19'2″
(5.8 m)
17'4″
(5.3 m)
28,581
(12,964 kg)
480-600+ HP
Note: approximate weight = base weight + 12″ shank spring (number of shanks x 650 pound extension springs)