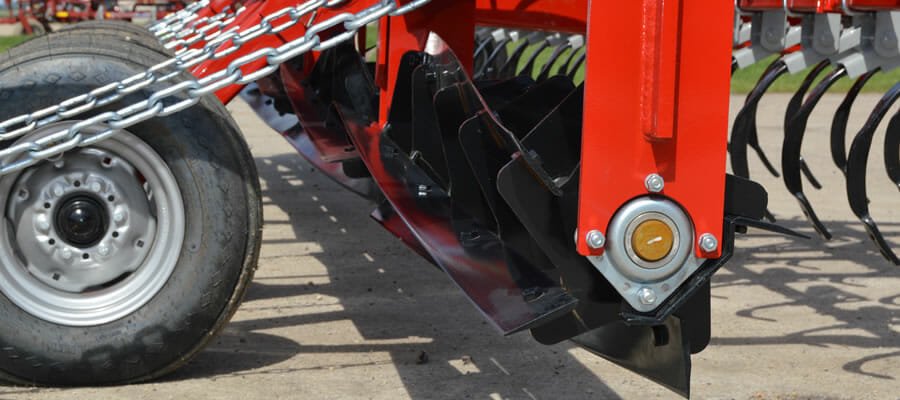 Seedbed Finisher
The Wil-Rich Seedbed Finisher is the perfect tool for creating a seedbed in the Mississippi Delta. Available in pull-type (Model 1400) and 3-point (Model 1403) options, this do-all machine penetrates, mixes, smooths and firms the ground, preparing your fields for even emergence of delicate crops.
By preparing the soil correctly, a planter can run right behind the Wil-Rich Seedbed Finisher, preserving moisture and extending the planting window. Built for both raised seedbeds and flat or rolling ground, the Wil-Rich Seedbed Finisher features the heaviest cutter reel to penetrate the ground. It can also incorporate chemicals effectively, resulting in a more productive seedbed.
The Model 1400 Seedbed Finisher can be fitted with two rows of shanks.
Four dual walking wheels
11L x 15 12-ply on 15 x 8 6-bolt rims
5 spiral cutter bars per reel
3/8 x 4-1/8″ (1 x 10.4 cm) plow share steel
Triple lip sealed bearings with lube fitting
Lube fitting guard protects from dirt and residue
Screw jack
Safety chain
Transport warning lights
Heavy duty full flexible
5-bar design gives spike tooth stagger of 2″ (5 cm)
Spike tooth 3/4″ (1.9 cm) square, 11-1/2″ (29.2 cm) long
Long life metal leveling board with adjustable leaf spring arms
7″ x 7″ (18 x 18 cm) heavy duty main frame toolbar
6″ x 6″ (15 x 15 cm) heavy duty wing toolbar
Choice of manual adjustable or hydraulic leveler
Over center folding wings
2 main lift cylinders
2 wing fold cylinders
Complete with hose and fittings
Pull Type 8-row: Reversible for straight or hammer strap type drawbars
Pull Type 12-row: Cat. IV tongue for 2″ (5 cm) diameter pin
Mounted 8-row: 3-pt. hitch adjustable to Cat. II or III, or quick attach coupler (Model 1403)
Mounted 12-row: 3-pt. hitch adjustable to Cat. III (Model 1403)
Optional Shank Attachment
8″ or 9″ (20 or 23 cm) spacing depending on size
Choice of edge formed C-shank or Danish tine type
Choice of 7 x 1/4″ (18 x .64 cm) or 9 x 1/4″ (23 x .64 cm) Terminator sweeps
Model 1400/8 Row – Non-folding with 36″ to 40″ (91.3 to 101.6 cm) Row Spacing
Model #

Working Width

Center Reels

Wing Reels

Transport Width

Transport Height

Approx. Weight lbs.

1400/8 Row
25'8″
(7.8 m)
–
–
16'6″
(5 m)
9'6″ (3 m)
9,706
(4,403 kg)
Model 1400/12 Row – Folding with 30″ (76.2 cm) Row Spacing
Model #

Working Width

Center Reels

Wing Reels

Transport Width

Transport Height

Approx. Weight lbs.

1400/12 Row
29'3″
(9 m)
2/7′
(2 m)
2/7′
(2 m)
19'6″
(6 m)
11'7″
(3.5 m)
7,679
(3,483 kg)
Model 1400/12 Row – Folding with 40″ (101.6 cm) Row Spacing
Model #

Working Width

Center Reels

Wing Reels

Transport Width

Transport Height

Approx. Weight lbs.

1400/12 Row
39'3″
(12 m)
2/9′
(2.75 m)
2/9′
(2.75 m)
25′
(7.6 m)
13'11"
(4.25 m)
9,995
(4,534 kg)
Model 1403/8 Row – Folding with 36″ to 40″ (91.3 to 101.6 cm) Row Spacing – 3-point mount
Model #

Working Width

Center reels

Wing Reels

Transport Width

Transport Height

Approx. Weight lbs.

1403/8 Row
25'10"
(8 m)
2/6′
(2 m)
2/6′
(2 m)
17'9″
(5.4 m)
9'6″
(3 m)
4,564
(2,070 kg)
Model 1403/12 Row – Folding with 40″ (101.6 cm) Row Spacing – 3-point mount
Model #

Working Width

Center Reels

Wing Reels

Transport Width

Transport Height

approx. Weight lbs.

1403/12 Row
39'3″
(12 m)
2/9′
(2.75 m)
2/9′
(2.75 m)
20'7″
(6.3 m)
7'10"
(2.4 m)
7,679
(3,483 kg)
Note: Approximate weight = base weight + level screw option weight