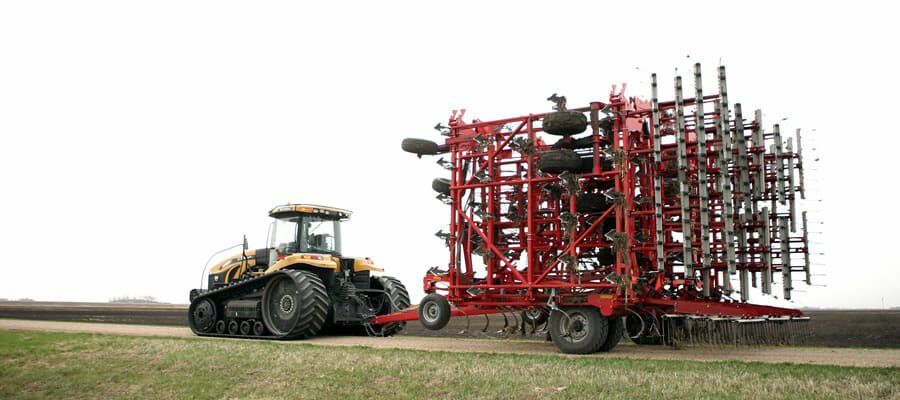 80-Foot QX2 Field Cultivator
The massive span of the 80-foot Wil-Rich QX2 Field Cultivator is the largest on the market and lets you eat up the ground quickly in today's high acre world.
As the largest piece of tillage equipment ever built by Wil-Rich, the 80-foot QX2 is strong enough to hold up to the challenges of the toughest field conditions and high-horsepower tractors of today and tomorrow, while shedding unnecessary weight with its efficient frame design.
The Wil-Rich 80-foot QX2 features a unique hitch system. In the field, the floating hitch pivots between the tractor and the main frame, allowing your cultivator to follow the lay of the land. While in transport, the hitch locks into place and the caster gauge wheels lift off the ground creating a stable transport package.
16′ (4.9 m) main frame
6-bar bolted frame
3 x 4″ (8 x 10 cm) tubular frame
35″ (89 cm) rank-to-rank spacing
140″ (356 cm) frame depth (fore-aft)
Floating hitch in field
Rigid lock hitch in transport
Eight front-mounted castering gauge wheels
Individual hydraulically-controlled 11L x 15 tires with 8″ (20.3 cm) rims
6-bolt hubs with 1¾" (4.4 cm) spindle
Nongrease axle composite pivots
Dual axle
Four 385/65R 22.5 tires with 10-bolt hubs and 3″ (7.6 cm) spindle
Non-grease axle composite pivots
Single-point depth control
16 main lift cylinders
Two wing lift cylinders per wing
Complete with hose fittings
Cat. V tongue for 2-3/4″ (7 cm) diameter pin
Single spring edge-on shank 200 lb. (224 kg) point pressure on 7″ (18 cm) spacing
Walking tandem with 12 31 x 13.5 tires on 10″ (25.4 cm) rims
6-bolt hubs with 2″ (5 cm) spindle
Nongrease axle composite pivots
Safety chain
Transport warning light package
General Information, Weights and Dimensions
80-foot QX2 16-foot (5 m) Main Frame with Dual Axle on Main Frame
Model #

Working Width

# of Shanks

Inner Wing

Middle Wing

Outer Wing

Transport Width

Transport Height

Approx. Weight (lbs.)

Approx. hp Requirement

16 QX2 80
79'11"
(24.4 m)
137
11'8″
(3.6 m)
11'8″
(3.6 m)
8'2″
(2.5 m)
20'10"
(6.4 m)
16'6″
(5 m)
24,937
(15,847 kg)
550+ HP
Note: Approximate weight = (number of shanks x shank weight) + base weight